SkyBlew – North Carolina
Mario "SkyBlew" Farrow grew up in Alabama. Most of his neighborhoods were polluted with drugs, gangs, and violence. Surrounded by negativity and transitioning into various foster homes, he could have easily chosen the wrong path. Rather than succumbing to his environment and dire circumstances, Mario chose to rise above them and use music to soothe his soul and escape. He would freestyle and rhyme to himself, eventually penning his lyrics under the name, "Young Millionaire," in 2004.
In 2008 Mario relocated and acclimated to Chapel Hill, NC. During this transitional period, he delved deeply into his craft, linking up with local emcees and producers like ACee, Shoton, and KdotMills. Taking his lyricism to the next level, Mario decided to change his handle to "SkyBlew." His music is proving to be unique with an uplifting, powerful, and positive message in Hip-Hop. SkyBlew uses his sincere, substantive lyrics & soulful sound to breathe life into a genre saturated with lies, darkness and gimmicks. Most say, SkyBlew is a breath of fresh air! He pushes the boundaries with his music and brings a new/unique flavor to the music world. In addition to his solo career, SkyBlew is also half of the dynamic duo known as Blaze the Sky, with fellow emcee, Azon Blaze.
SkyBlew, doesn't want to put himself in a box, so he strays away from putting certain labels on his style. He simply titles it – Painting The Sky,Blew!!! The young artist, also creatively incorporates video game and anime references/themes into his repertoire in a very unique way. It's all about having fun, spreading LOVE, being yourself & enjoying life! He has performed at countless anime and video game conventions including: XCON, The Carolina Gaming Summit, Hoshicon, The Triad Anime Con & more! He also got the chance to tour with his musical mentor, Random aka Mega Ran!! His distinctive sound is attributed to the diversity of his idols. His musical influences include: Common, Lupe Fiasco, Nujabes, 2Pac, Scapegoat Wax, Blue Scholars, Common Market, Amy Winehouse and a host of other artists from all genres. His studies have taken him full circle in the history of Hip-Hop.
SkyBlew is featured on some of the most notable websites in cyberspace such as: 2DopeBoyz, Afropunk, Earmilk, MTV, DJ Booth, HYPEFRESH Magazine, and countless others! He also, received MAJOR recognition from ReverbNation as a "Break Out Artist" in their "ReverbNation Artists Shine in 2013″ video! Sky has shared the stage with some of the finest artists in the business, including: Kendrick Lamar, Slick Rick, Lupe Fiasco, Flobots, Slum Village, The Cool Kids, Jedi Mind Tricks, Watsky, Chris Webby, Kirko Bangz, Grieves, Jean Grae, J-Live, Aer, Wax, Yonas, Camp Lo, David Dallas and the list goes on! He has also worked with clothing companies through sponsorship such as: Tilteed (www.tilteed.com), Acropolis (www.acropolisapparel.com) and Team Thesis (www.theteamthesis.com). He is currently working with: Bitmap'd Video Game Tees (http://bitmapd.com/) and Fresh Toast Clothing (http://www.freshtoastclothing.com/).
SkyBlew is destined for great things. His exposure is growing exponentially on the regional, national, and international levels. With over 1M (million) views on MySpace and a rapidly growing Facebook page, he is painting the sky an elevated shade of BLEW! His album "SkyBlew's UNmodern Life' which was released under Mega Ran's imprint – RandomBeats Music, debuted on the Bandcamp front page as the second best seller in the Hip-Hop category! SkyBlew was also nominated for the NCUMAS (North Carolina Underground Music Awards) 2012 Lyricist Award! His powerful music video/short film "Running in Place" won Best Music Video at the Rumschpringe International Short Film Festival and 3rd Best Video at the Bayou City Inspirational Film Festival! Also, he recently released an exclusive album in South Korea that made it to their top 10 charts! The nominations continue to soar! Legendary performances are in the making… Appointed times appear, and with the state of Hip-Hop today, we need more from SkyBlew. This ColorfulDreamer lives by the slogan, "I DON'T Rap, I Paint The Sky,Blew!!!"
He Got Next..
MrTonyBlu -Boston

Where you from? Boston, Ma. Dorchester To be Specific.
How long have you been doing music? I've Been Involved With Music Since I Was About 10 Years Old. I Learned To Compose & Play Classical Piano For About 4-5 Years As A Teenager. My First Time I Ever Listened To Hip-Hop Was Yo! MTV Raps & Kool Moe Dee "Wild Wild West" Would Come On & I Would Lose My Mind. Along With Das EFX, Naughty By Nature, Digital Underground, 2pac , Biggie. All OF The Greats.
What type of style would you say you have? My Style I Would Say Is The Golden Era Mixed With Technology. Like If They Had I-phone's in '93  You Would Be THE MAN.I Do Experiment With My Musical Sound But Nothing Beats A Straight Up Boom-Bap Grassroots I Carry All The Influences I've Heard Throughout My Life Into My Music, East,West, 3rd Coast,Country,R&B,Hardcore Hip-Hop. I Don't Put Boundaries On My Music For Fear Of Hurting My Own Artistry.
Being From Boston We Have A Sound Like No Where Else. My Song " On Doggs" Portrays That In Essence. Its Like A Classic Feeling, A Championship Feeling We Have In Our Music.
Who inspired you 2 start doing music? My Inspirations Vary From Artist & From Life. I Would Listen To Wu-Tang For Endless Hours & Read The Encyclopedia. Throw On Some Mos Def & Talib Kweli, Outkast, UGK To Get That Bounce In My Step. I Like To Listen To Artist That Express Individuality.
How do you feel about the music business in the direction it's in & why? Music Business Is Ridiculous. As An Independent With A Cult Fan-base I Feel Better Knowing My Sound Gets To My People Directly. I Wouldn't Want To Sign My Life Away To A Big Record Company Without Planning And Guidelines, Especially Since Nowadays You Have To "Entertain"  But I See As A Big Ass Gimmick.Shit Is Sickening. I Salute All Independent Artists That Get Up And Out Of Their Way To Spread Their Creativity & Art. Having A Deal Is Just A Loan From The Bank.
Name 5 artist that you listen 2 on the daily? Curren$y, Max B, ,Bob Marley Kaytranada, Alot Of Dj Mixes From YvngPaul, Dj BigBear. Orange Calderon, Flying Lotus. Damn The List Goes Long, I've Been Bumpin' Alot Of KEY! & Bankroll Fresh From Atlanta. I Listen To A Little Everything I'm Currently Jammin' James Fauntleroy Right Now.
Who do you feel about the music scene locally & what impact you can have 2 change it? Locally My City Of Boston Is Reaching A New Height. #NewBoston . My Impact Persay Is To Support & Be A Wavy Individual.
Other than music what other endeavors are your in?Music.Art. And Fashion. I Love To Work With Different Clothing Lines. Right Now KushGroove Clothing ( www.kushgroove.com ) Got The City & Soon To Be The World On Lock.Go Check Them Out.
Im Reaching Into My Fashion Design Books To Create A Unique Merchandise Brand For Myself.
I Have An Affinity For Tattoos, So I'll Be Cooking Up A Flash Book Sometime This Year Along With My Tattoo Artists @Mal_Genio & @MajokInkTattos From Brooklyn Check Their Work Out On Instagram.
Who would you say is the greatest rapper of all time? Ghostface Killah.
Where do you see yourself in this music in the next 2 years? In 2 years I Can See Myself Doin' What I Love.. Being Able to Fully Express Myself Creatively And Making A Mark In My City & This World.
What the definition of Trill 2 you? T.he R.ealest i.ndividual L.iving l.ife
How can people find your music or contact you 2 know more about you & your movement?
Follow Him On Twitter – @MrTonyBlu
Follow Him On Instagram _ MrTonyBlu
Tink – Chicago IL
Trinity Home, 17, of Calumet City, is about to start her senior year of high school. She's also, as rapper/singer Tink, becoming one of the Chicago area's most talked-about new musical artists.
Her March mixtape, "Winter's Diary," was mostly silky, confessional R&B, and its sound was striking and mature–particularly for a debut release. It also featured a few show-stopping rap verses, which serve as a primer for Tink's more rap-oriented second mixtape, "Alter Ego," which dropped today.
To prepare for the release, we brought Tink into the RedEye offices to talk about her musical beginnings, her high school and splitting her time between rapping and singing.


How old were you when you started singing?
I started singing when I was like, a baby, like five, in the church. I started singing in church. And then my freshman year in high school I picked up on rapping by, like, accident, almost. And I kept working at it.
What do you mean, "By accident?" What was the accident that made you stumble into rapping?
Not really an accident, but actually I was playing. I was in the room with my brother, and he put on an instrumental. It was a Clipse beat, and I started saying words that rhymed. We recorded it, he put it on Facebook and everybody was like, "She's good, keep doing that." So I made some more, just kept dropping them on Facebook, and I kind of got into it for real, seriously.
What do kids in school think of your music?
They love it. My friends and classmates and stuff, they're very supportive. They always tell me what they think. It's always good feedback. They look out for me.
Do you stand around at lunch and rap with people?
Honestly, we did, used to do that, like in the hallways between classes and stuff. Everybody would huddle around, and I'd just like spit a verse that I wrote the night before, and they'd be like, "Aw, she's so raw" and "Say another one the next period."
In that environment, do you think the fact that you're a female rapper plays into peoples' expectations or the way they approach your music at all?
Not really. They know how I sound, so they always expect just to hear some dope bars.
What are your favorite subjects in school?
English. I love to write. It kind of helps me out with the rapping and singing and whatnot. And math.
Do you make all your music at home?
I actually do. I have a studio in my basement. I sit there – I grab my brother, tell him to engineer, tell Dad to mix it down for me.
So the whole family gets involved.
Yeah, everyone pitches in, which is dope.
Is anyone else in the family musical?
My mother actually sings, and my dad plays the guitar and piano. And my brother used to play the drums. So everybody's kind of got that music in them.
So your family's supportive of your music, then?
Definitely. They support my music 100%.
What do your friends think of the music you're making?
They love it. That's all we play in the car. We used to go to school and they'd pop in my CD, and that's all we'd play. Slam it.
Do you have a driver's license yet?
No. I have a permit. I can go get it, though. I have a waiver, but I've just been working so much that I haven't gone and gotten it.
Where did the name Tink come from?
Tink is actually my nickname, my childhood nickname. All my friends call me Tink. Everybody that knows me calls me Tink, so I didn't want to change it up. I just was like, let's stick with Tink. It sounds different. It pops.
Who are some of your musical influences?
Definitely TLC. I love that entire group 'cause they're just dope, and they had a different style back in the day. It was so unique about everything that they did. Alicia Keys: I love her, definitely. A lot of artists. Da Brat: I thought she was dope – still is. I listen to everybody. I look up to a lot of people for different reasons: music, looks, everything.
Who are some of your style influences?
Teyana Taylor, right now. She's dope, all the way. I like her style. Rihanna, of course. She sets trends.
What do you think about other artists in Chicago right now?
It's a big movement going on right now. I love it. I feel like everybody is out here putting work in. It's so beautiful.
Being both a singer and a rapper, are there expectations that you go more one way than the other? Especially as a girl, do people expect you to be more of a singer than a rapper?
Definitely. I get that a lot, but that's why I just try to switch it up a lot. They never really know what they're going to get. I might drop a song one day singing, and it might be really soft and nice. And then drop a rap song, and it might be a lot of energy and real fun. I try to mix it up so it doesn't get [to be] too much of one thing and not the other.
Your R&B tape is more emotional. Are there some stories behind that?
"Winter's Diary" was full of real life events. That's why it's called "Winter's Diary:" because it's everything that happened between November, December, October, all those months. "Winter's Diary" is, like, literal.
Was there anything else growing up that prompted you to do music? What are your other interests outside of music?
I always wanted to be an entertainer, I guess. When I was younger I loved performing – I also danced as well. I've always just been on stage and stuff. I like entertaining people and making them applaud. I want to do it for a living, make it into a career. It's just my passion. I like to have fun, for people. Entertaining is fun.
Do you think having a distinct visual style is as important for an artist coming out right now as having a distinct musical style?
I think so. Definitely. Your image plays a lot [of importance] because everybody wants to see, match the artist and their clothing and their face with the music. I think it all has to make sense and combine into one.
You have this song about Bonnie and Clyde. Do you have an interest in movies? Is that where that comes from?
Honestly, I've never even seen that movie. I just know the whole story with Bonnie and Clyde. They were down for each other no matter what, making moves and breaking the law and stuff, right?
Yeah.
I just knew the story, what it was about, so I just used Bonnie and Clyde.
Have you found the Clyde to your Bonnie?
No, unfortunately.
It's OK. You're young.
Follow Her On Twitter – @Official_Tink
 3D Na'Tee -New Orleans, LA
3D Na'Tee (pronounced Three Dee Nah-Tee), was born Samantha James in the notoriously rough city of New Orleans, Louisiana. Having to deal with extreme hardship and tragedy in her home, Na'Tee turned to poetry and music at an early age as a way to release tension and gain a sense of inner calm amidst the chaos and confusion that surrounded her. Na'Tee knows the turmoil of the street life all too well. She is the oldest child and the only girl of parents who sold drugs, and later fell victim to the same fate as many of the people they sold to over the years. Her mother and father became addicted to drugs when Na'Tee was just a child.
Sadly, her father committed suicide when she was just 10 years old, forcing her to grow up fast and assume the parental role for her two younger brothers. Having adopted the hustler's mentality of her parents, she eventually began selling drugs in order to make money and take care of herself. After her own run-ins with the law, she made the choice to change her lifestyle for the positive.
This is where Na'Tee embraced her love for music and her lyrical talent as a God-given gift. Once she accepted her talent as such a gift, she knew that she must follow this purpose for her life. For Na'Tee, music is what she was born to do; it is how she shares herself with the world. The personal story that this female emcee has to tell is one of triumph over tribulation. The female rapper describes the evolution of her signature sound as sometimes sexy, sometimes street – yet always honest and, most important, entertaining:
The roughness you hear in her music is reflective of the hard shell that she had to adopt to protect herself from her own anger and pain. Her more upbeat songs are a celebration of her ability to now be able to embrace the good in life and her newfound possibilities. Mature, heartfelt tracks such as "Dear Father" are glimpses into her past which tell a story of a child once lost, as the lyrics display evidence of a woman now found.
With the release of her first mixtape, 3's Company Vol.1: Da Rapper, Da Hustler, Da Diva, Na'Tee quickly developed a fan base in her hometown and word began to spread that yet another amazing Hip Hop artist was emerging from New Orleans. By the release of her second project (3's Company Vol.2), Na'Tee had begun participating in rap battles – her most infamous battle was a win over the four-time freestyle champion on BET's 106th and Park, Jaha.
Capitalizing off of the promotion and buzz of that battle, Na'Tee released her mixtape the same week of the rap battle. Seizing the moment and prevailing, Na'Tee had officially made a name for herself, and had the fan base to match. She set expectations high and was determined to deliver; and she did just that. Following that infamous rap battle, she appeared on a DVD, "The Kush 2," produced by Mack Maine of the super-successful music label, Young Money. The DVD was distributed nationally and gave Na'Tee the exposure she needed to take her career to the next level.
An independent artist, Na'Tee is currently working on her fifth mixtape, The Coronation, which will be released in 2012. The Coronation features appearances by artists such as Timbaland, Keri Hilson, Missy Elliott and more. She has been featured on MTV2's Suckafree Freestyle, and has appeared in both HipHop Weekly and The Fader magazines. Na'Tee has also been featured on Thisis50, GlobalGrind, Shade 45 and other online and radio urban media outlets. At the 2010 New Orleans Underground Hip Hop Awards, Na'Tee won Lyricist of the Year, Best Female Artist, and her 2010 mixtape, Guess Who's Coming to Dinner, earned her the award for Mixtape of the Year.
The following year, she won Video of the Year for the viral release of "Switch," which once released online took on a life of its own, and immensely increased her musical following. To add to her list of talents and experience, Na'Tee directed and edited this video herself; this is also the video that got super-producer Timbaland's attention, which led to him offering her a production deal with his company, Mosley Music Group. With New Orleans under her belt and having caught the initial attention of Hip Hop heavyweights, Na'Tee is ready to earn her spot amongst the greatest emcees in Hip Hop.
- Written by 3D Na'Tee and Simone Slaughter of The Amnesty Media Group
 Smoke Drink Break Up
Chris Miles- Yaphank, NY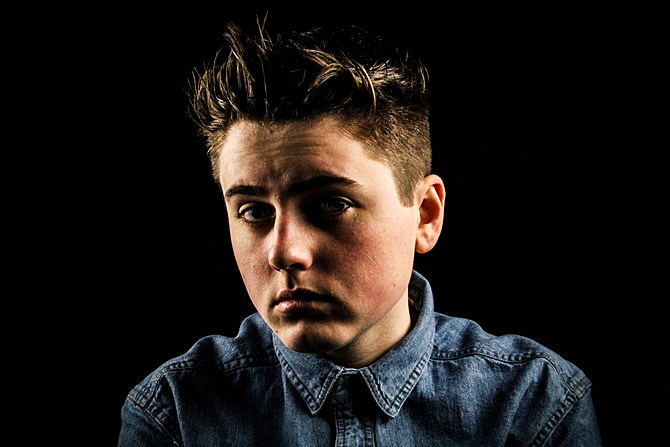 Two years ago, you might have recognized a baby-faced Chris Miles impress rap fans worldwide with his viral audition video to America's Got Talent. Since then, the New York MC has grown up a bit, releasing two mixtapes (I Am Me, Growing Pains) and preparing to drop his official EP debut Birth Of Cool next Monday on DatPiff. Backed by the gift of lyricism and a vintage, boom-bap sound to boot, don't be surprised if Miles rises from child prodigy to hip-hop's next big thing. "I use music as motivation," the 15-year-old rhymer says. "The fact that nobody has done it at this age before. It's kind of motivates me to go harder and do what I gotta do. I just want to have longevity." Let the story begin.—Eric DiepName: Chris MilesAge: 15Hometown: Yaphank, NYI grew up listening to: Mac Miller is definitely someone I'm inspired by. He's dope. The way he came up [through] an independent label and shit. He doesn't really care what other people think. He just came up by himself with his friends and he's just dope.When I first started rapping, I was listening to Em, and then I just digressed into Jay Z. Then, I started listening to Kanye. And then my variety got bigger. I just got inspired and now I got my own sound.Most people don't know: I'm actually pretty good at school. I get 90s in all my classes. I'm not just a scumbag, white trash kid. [Laughs.] I get good grades for the most part.My style has been compared to: I get [the white rapper comparisons] all the time. I get the MGK, Macklemore, Mac Miller, Eminem. I can see where they are coming from, but I'm starting to make my whole style and the music I'm giving my own spin to it. So it's getting dope.In my latest song ["Time"], some people are saying I sound like Kendrick in some parts. I've been listening to Kendrick lately, so I can see where that comes from. I just get the Eminem [comparison] all the time. They just judge off the skin color. I guess my accents and cadences. All that shit.My standout records and moments to date have been: I feel like most of the stuff hasn't even come out yet, but my biggest standout record to me is "Perfect." It's produced by Michael Keenan. It's a pop joint, but I am still talking about real shit, you just gotta listen to the lyrics. I'm trying to reach both masses."Time," that's a dope song. That's basically talking about how life is changing and sometimes you get lost in all the music stuff, but you just gotta keep going with it. Just talking about being grateful for everything.My last music video before "Time" is a song called "Do That." I'm just rapping for four minutes straight. So I think that's pretty dope. I just want people to check that out. That's pretty tight. Basically, some show off shit.My Goal In Hip-Hop Is: I just want to be able to do real shit, but still be able to get on the radio and have everybody be able to like my music. The fact that I can do both. I don't have to be some underground rapper. I could talk about things underground rappers talk about, but just do it on a bigger level.I'm going to be the next: Chris Miles.Standout: "Time"
Also check out: "Knew That"
To check out more of my music go to: Follow me on Twitter (@RealChrisMiles), Facebook, Instagram, and YouTube